Toshiba Copier For Sale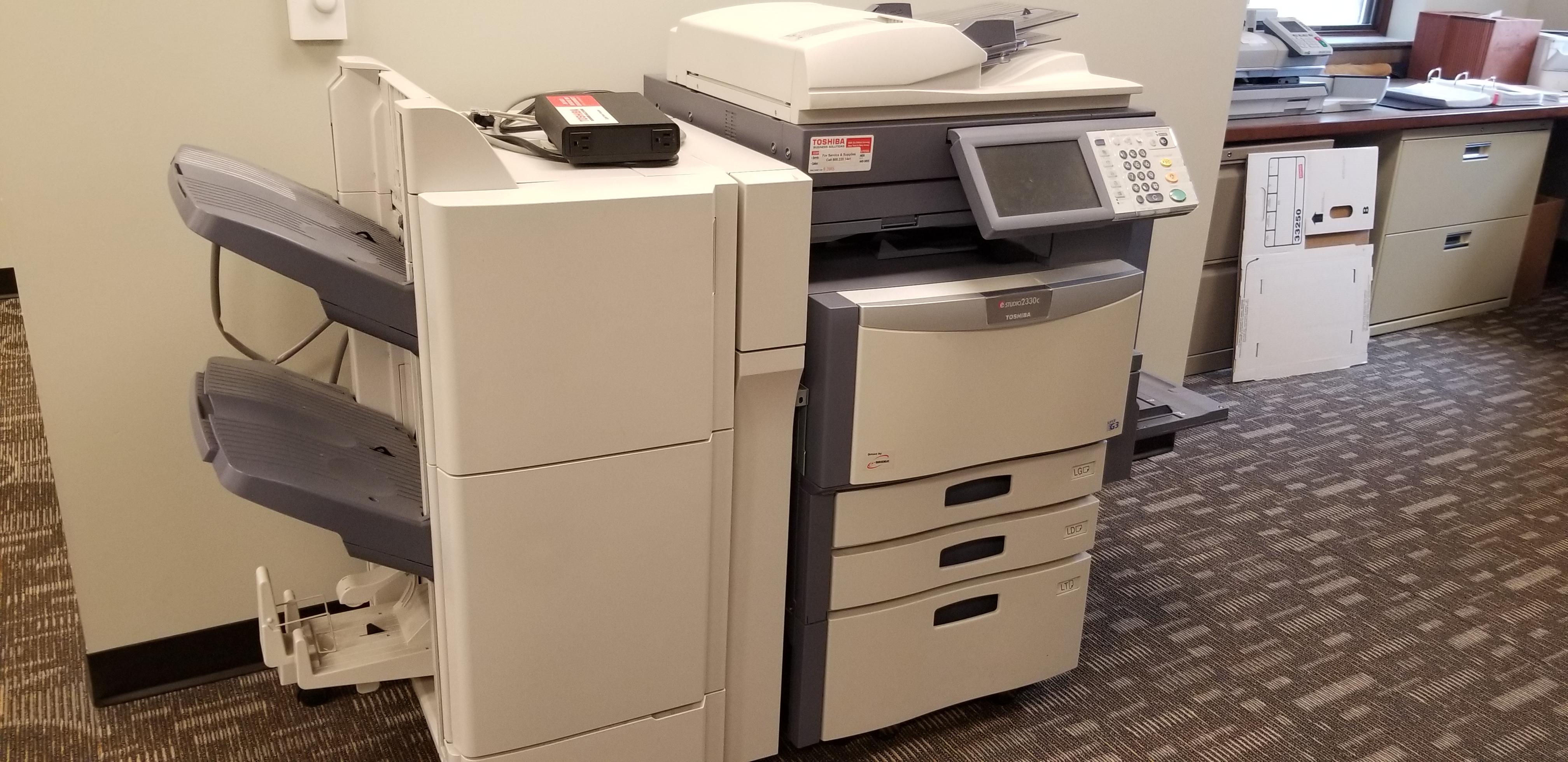 For Sale
Toshiba eStudio 2330c Copier
East Donegal Township is currently taking sealed bids on the above pictured office multi-function copier (copy, print, fax, scan). Copier has been Township-owned and maintained since new, approximately 9 years ago. Bids will be accepted until February 11, 2019. Minimum bid of $500.00 needed. Only cash or Certified Funds accepted. Copier will be sold AS IS, NO WARRANTY, expressed or implied.
The e-STUDIO2330c/2830c at a Glance

Copy Features
• Single-pass, four-drum, tandem color engine
• Color print speeds up to 28 PPM
• 600 x 600 dpi resolution
• Color image quality optimized for general office and_ professional graphics
• Section 508 compliant, large, tilting color touch-screen control panel
• Environmentally friendly, Energy Star compliant
• Easily Replaceable Units (ERU)
• Optional stapler installed
• Optional booklet folding installed
Printer Features
• PS3, PCL6, XPS
• 10 /100BaseT Ethernet interface
• IEEE 802.11b/g wireless printing
• Point and print
• Private, proof, scheduled, and stored print
• New unified Toshiba print driver
• Windows Vista® Premium (XPS) Certified
• Print directly from USB flash drives
Fax Features
• Super Group 3, 33.6 Kbps
• JBIG compression
• Optional second line
• Internet faxing (T.37)
• Incoming fax routing: send-to-file/e-mail
Scan Features
• Scan speeds up to 57 SPM black and white and color
• 600 dpi black and white and color resolution
• JPEG, TIFF, PDF, and XPS file formats
• Scan-to-file/e-mail/FTP
• Control panel LDAP support
• Unified address book
• Scans directly to USB flash drives (supports most common USB drives)

Send bids via U.S. Postal Service to East Donegal Township, 190 Rock Point Road, Marietta, PA 17547, ATTENTION: Twp Manager. Please enclose all contact information with bid. Bid opening will be on February 13, 2019 at 9:00 AM at the East Donegal Township Municipal Building located at 190 Rock Point Rd., Marietta, Pa. 17547. Money order, cash, bank or certified check due within 5 business days by the winning bidder.
CONTACT THE TOWNSHIP OFFICE AT 717-426-3167 WITH QUESTIONS