East High Street Improvement Project
Sidewalks and Winter Weather
While construction continues (weather permitting) there will be portions of the project area that will not have completed sidewalks.  Property owners in these areas will not be subject to the Township's regulations regarding the removal of snow/ice following winter storm events.
Property owners in areas with sidewalks already installed are expected to comply with Township regulations for the clearing of public sidewalks.  However, care should be taken if ice melt products are used.  Rock salt (sodium chloride) will damage concrete sidewalks installed with the project.  In addition, Potassium Chloride, while safe for the environment, will also damage concrete. 
Good ice melt choices for concrete are Calcium Chloride and Magnesium Chloride.  Another good choice is Calcium Magnesium Acetate which doesn't wash away as easily as the others and has a lower environmental impact.  No matter what material used, best practices calls for the use of the least amount of material needed and a quick clean-up/sweeping of the material that may remain on the surface after the snow/ice is gone.
WHAT'S EXPECTED THIS WEEK
Week of January 13th – Work will continue on the installation of sidewalks in the eastern portion of the project site (east of Queen Street).  To facilitate the work and ensure the safety of workers, this block will experience road closures during work hours (typically 8 AM to 4 PM).  This work will continue as weather permits.
Week of August 5th – Contractor should be completed with removing/replacing sanitary sewer laterals.  Work will start for the installation of storm sewer facilities.  Street closures, including access to Queen Street, and Queen Street crossing East High Street, are expected during working hours to allow equipment and personnel safe working conditions.

---
Project Emergency Contact Numbers
Road Work Issues – Jake Bair 717-604-4309
Public Water Issues – Don Richards 717-203-5581 or Tim Richards 717-203-4845
Public Sewer Issues – Joyce Boyer 717-426-2855
---
March 26, 2019
BID OPENING RESULTS
MacMor Construction – $1,022,215.75
Construction Masters Services, LLC – $1,249,355.70
Shiloh Paving Excavating Inc. – $1,279,775.95
Doug Lamb Construction, Inc. – $1,509,194.00
Pennsy Supply Inc. – $1,549,815.85
Farhat Excavating, LLC – $1,591,805.00
---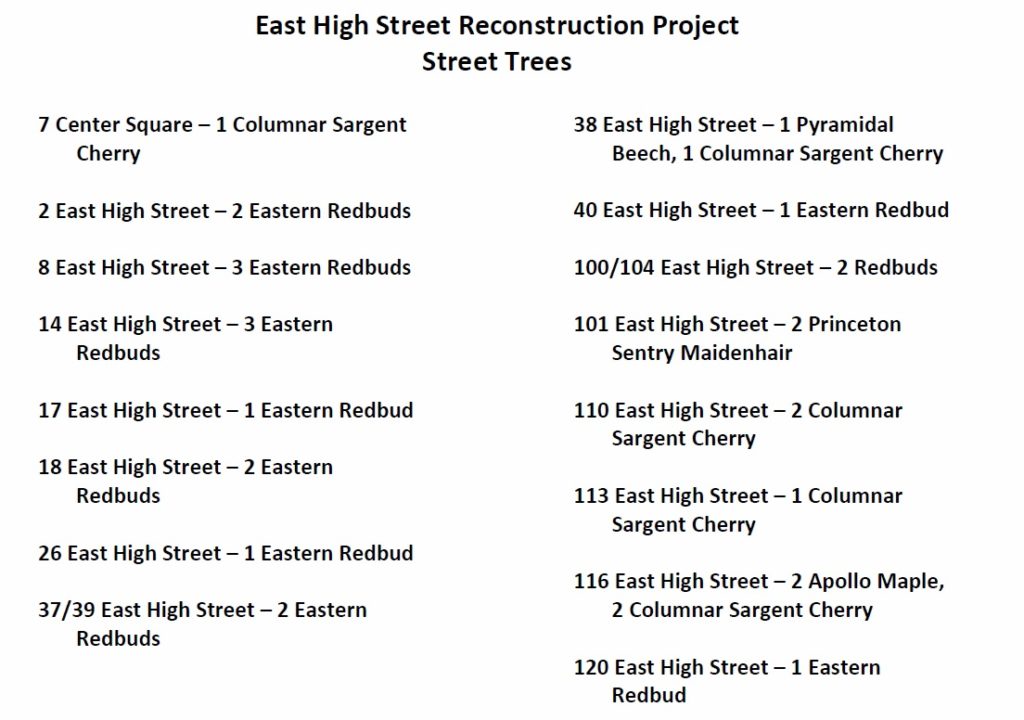 To view project construction drawings, please click on thumbnails below.
Street Tree Handout