Trash and Recycling
TRASH AND RECYCLING
 General Information
Republic Services is the contracted residential trash hauler for East Donegal Township.  Refuse/recycling is picked up on Tuesday or Wednesday based on where you live in the Township.  Those living in the Township west of Colebrook Road and Old Colebrook Road will be serviced on Tuesdays.  Those living in the Township east of those roadways will be serviced on Wednesdays. (Click on map to view larger version) The residents living on Colebrook Road or Old Colebrook Road will be serviced on Wednesdays.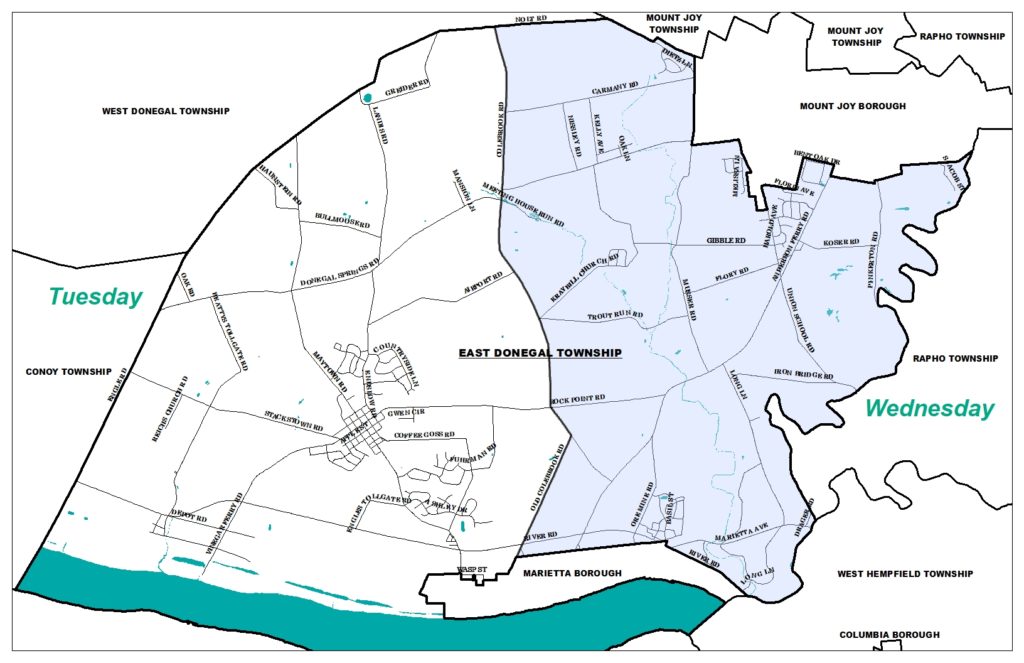 All refuse/recycling must be placed curbside the night prior to the scheduled pickup.
The cost for refuse/recycling collection service is $250.00 per year (billed $125.00 semi-annually). Checks for Refuse and Recycling (green bill) are to be made to: East Donegal Township Refuse and Recycling Account. To assist in properly crediting your account, please write your account number and bill you are paying on your check (example: #312/trash).  The Township also offers payment online by check or credit card (HERE is the link to that payment option).
Trash
There is a three (3) bag container limit allowed under the basic service fee.  The maximum size of the bags or containers used is 32 gallons and may weigh no more than 30 pounds.  Tags may be purchased at the Township Building for extra trash ($1.00 each) or oversize items ($5.00 each).  Demolition/construction waste is to be taken to the landfill.  Littering of Township roadways and neighboring properties can be a problem.  It can be caused by rains storms, wind, birds and critters, including dogs and cats.  Residents can help by not overfilling trash cans and recycling bins.
Recycling
Recycling is mandatory in East Donegal Township.  Recycling bins are available at the Township Building.  The Township participates in a single stream recycling program which enables you to place all recyclable materials in one container.  The recycling materials are to be placed curbside with trash the evening before the scheduled pickup.  It's suggested that materials such as paper are not placed out if its raining, and materials that could easily blow away not be placed out if windy.
Find additional information regarding recycling in East Donegal Township, please click HERE.
Oversize Refuse Items
Oversize items will be picked up curbside weekly during regular trash collection.  No more than 2 items per week will be picked up per residence and each item must be tagged with a $5.00 oversize refuse tag.
Appliance and Tire Pickup
When large appliances are thrown out many of them require special disposal because some items contain a large amount of metal and may also contain freon.  Each appliance must be scheduled for individual pickup on the designated dates and requires the purchase of an Appliance Tag ($12.00 each).  Tags can be purchased at the Township Building.  You can find the schedule for appliance pickups HERE.
A Tire Tag ($4.00 per tire and $4.00 per wheel) is required for disposal of tires and wheels.  Tags can be purchased at the Township Building.  You can find the schedule for tire and wheel pickups HERE.
Appliance and tire/wheel pickups are scheduled for two Saturdays per year.  Because appliance and tire/wheel pickup are scheduled for Saturdays, please place the items curbside Friday evening.
Yard Waste
Yard Waste collection typically extends from the first week in April through the first week in October.  The specific dates for each year can be found HERE.  Yard waste includes grass clippings, vegetation, flowers and garden residue.  These materials must be placed in a biodegradable kraft bag (available at the Township Building) and must have a Yard Waste Tag ($2.00 each) attached.  There is a bag weight limit of 30 pounds per bag.  Branches, limbs and other prunings can be no longer than 4 feet in length and tied with string or twine (no wire) and must have a Yard Waste Tag ($2.00 each) attached.
Leaves
Curbside pickup of leaves begins following the end of the Yard Waste season (typically the second week in October) and extends to December.  The specific dates for each year can be found HERE.  All curbside leaf pickups are FREE of charge and will not require extra service tags.  The biodegradable kraft bags are available to Township trash and recycling residents at the Township Building.  Do not tape or staple the bags closed.
If you have a bag of leaves to dispose of after the collection period has ended, treat it as regular trash.  However, the leaves cannot be placed in the biodegradable kraft bag and if adding this exceeds the three bag limit, an Extra Item Tag ($2.00 each) is required.
Household Hazardous Waste
Items that may not be put into the trash (i.e. motor oil, batteries, paint, pesticides, antifreeze, pool chemicals, fluorescent bulbs, etc.) are to be taken to the Household Hazardous Waste (HHW) Facility.  The HHW facility is located at the Lancaster County Solid Waste Management Authority transfer station, 1299 Harrisburg Pike.  The facility is open Monday-Friday 7:00 AM to 4:00 PM and Saturday, 8:00 AM to Noon.  Currently is there is not a fee for dropping HHW off at the facility.
The HHW facility only accepts materials generated by Lancaster County residents and business.  For complete facility details and list of items accepted, please visit the Authority's website at www.lcswma.org.
Christmas Trees
FREE Christmas Tree collection will be one day only in January each year.  The specific date for each year can be found HERE.  Put the tree in the usual pickup location.  Please make sure trees are free of all ornaments, lights, tinsel, plastic bags and/or covers.  No artificial items will be taken.  If the special pickup is missed, place an Oversize Item Tag ($5.00 each) on the tree and place it out on the regular collection day.
Compost Site
A new gate system is installed at the Mount Joy-East Donegal Compost Site. Residents of the Borough and the Township have the option of purchasing a key FOB to gain access into the Compost Site. Key FOBs are available for pickup at the Borough Office. CLICK HERE FOR APPLICATION or you can pick one up at the Borough Office.
Current key fob subscriptions will expire on February 28, 2023.  You may renew your key fob at your convenience after January 1, 2023, for the next year which will end on February 28, 2024. We ask that you renew early to avoid any disruption in service. Any new subscriptions purchased prior to January 1, 2023, will expire on February 28, 2023.
To renew, please fill out a Key Fob 2023 Application.  Where appropriate on the application, circle RENEWAL and write your key fob number on the application.
Either mail or drop the renewal application off at the borough office along with the appropriate payment at:
Mount Joy Borough, 21 East Main Street, Mount Joy, PA 17552
Questions can be directed to the Mount Joy Borough Office at 717-653-2300.
The Compost Site is continuously monitored by surveillance cameras. We encourage you to follow the rules of the facility, and to report any abuse of the facility to the Borough Public Works Department at (717) 653-8226. The Mount Joy Borough Police Department will randomly be monitoring the facility; you may be
asked to show identification. Any violation of the Rules and Regulations will result in loss of access to the facility. Upon entrance to the facility, please follow the directional signage, and place all items into designated areas.
The Site is only accessible with a key fob.
Facility Regulations
GENERAL RULES:
• For use by Mount Joy Borough and East Donegal Township residents only
• Place items in designated areas – Separate Woody Waste from Yard Waste
Woody Waste – Items with bark, tree trunks, limbs, and branches
Tree branches and trunks need to be less than 19" in diameter and less than 8' in length
Yard Waste – Leaves, green plants, and garden waste
Material may be in kraft bags which can be purchased at the Borough Office at 21 East Main Street, Mount Joy (717) 653-2300 or at Milanof-Schock Library at 1184 Anderson Ferry Road, Mount Joy.
Sod or dirt may be placed on the dirt pile
• No rocks or stones
• No smoking
• No grass clippings
• No tree stumps
• No trash or garbage
• No construction or demolition waste
• No painted, pressure treated wood, railroad ties or landscaping timbers
• No plastic bags
• Christmas trees must be free of all ornaments
UNACCEPTABLE USE OF THE FACILITY (RESULTING IN LOSS OF ACCESS):
• Use of your key fob by someone not of your property
• Dropping any items not accepted at the facility
• Damage to gates, signs, buildings, or any other property damage