Osprey Nesting Platform Erected in Riverfront Park
A new osprey nesting platform erected in the township by PPL Electric Utilities and the Pennsylvania Game Commission is generating a buzz among residents anticipating a future view of the large, fish-eating birds of prey.
The new platform, placed at Riverfront Park, is the first of six the utility company plans to add throughout its service territory. The remaining five sites have not yet been determined, but PPL is working with the Game Commission to seek spots near known nesting areas that would be attractive to osprey.
Nesting platforms, built to a height above the surrounding tree line, offer a safe nesting place for osprey, considered threatened and protected in Pennsylvania. The birds are known for nesting on artificial structures, such as electricity transmission towers, located near water wh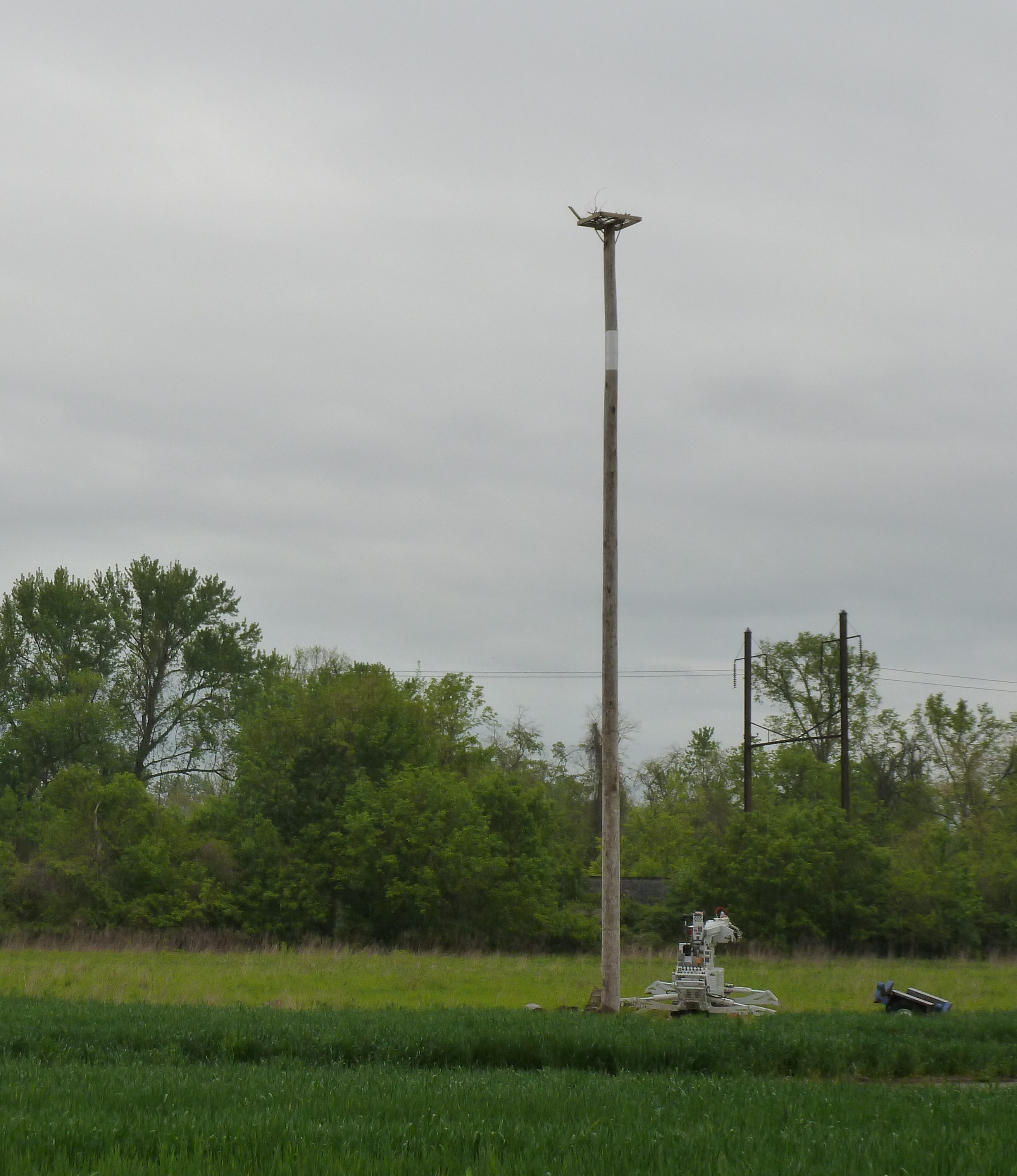 ere the birds can feed.
PPL got involved after being contacted by Marietta Mayor Raymond Vegso and his wife Sally. They raised the idea for the platform after seeing several failed nesting attempts on a nearby bridge over the Susquehanna River.  After evaluating several locations, the spot in Riverfront Park was identified by PPL environmental employees and the Game Commission as the best location to attract and help the osprey.
Dan Mummert, a wildlife biologist with the Game Commission, presented the idea to East Donegal's Parks Commission in March.  The commission enthusiastically recommended the platform to supervisors, who approved it in turn.
Mummert said siting and getting the osprey platform built and raised was "a great experience."
"This project was an excellent example of cooperation between different organizations and was a win-win for the Game Commission, PPL, the osprey and the community," he said.  "Providing safe nesting platforms for osprey is a great way to help prevent these birds from building nests at locations that aren't suitable.  I'm looking forward to working with PPL again in the near future to install additional osprey platforms to benefit this Pennsylvania threatened species."
The hope is that the osprey will choose to nest on new platforms rather than on bridges — or on transmission and distribution power lines. Those nests can sometimes affect reliable electric service to customers.
"There are very few natural nesting locations that are suitable for these birds, so they tend to use manmade structures for nests," explained Jeff Luzenski, a PPL senior environmental professional. "So, providing them with a good nesting structure in attractive location like this helps them survive and thrive."
Game Commission Land Management Supervisor Tyler Hudock built the nesting platform, while PPL donated the utility pole and machinery for installation.  Several PPL employees, Mummert and Marietta resident Ernie Lehman volunteered on a weeknight to help with the installation work.