Township Adopts Regulations Regarding Peddling/Soliciting
At the August 3, 2017 meeting of the Township Board of Supervisors, the Board enacted regulations governing peddling, soliciting and related activities within the Township. These regulations went into effect on August 8, 2017. A copy of the Ordinance and forms are available at the East Donegal Township Municipal Building, 190 Rock Point Road, from either the Township Office or the office of the Susquehanna Regional Police Department.
The Ordinance and forms can also be downloaded HERE.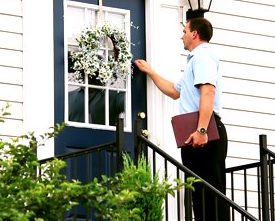 Those peddling or soliciting within the Township are now required to carry and display a Township License issued by the Susquehanna Regional Police Department and must show the license on demand. Please note that Charitable Organizations; Children selling items to support clubs or organizations such as the Boy or Girl Scouts; Farmers selling their own produce; and Political speech are exempt from the licensing requirement of the Ordinance. However, these types of groups are required to register with the Police Department.
No person engaged in peddling or any transient retail business shall:
• Sell any product or type of product not mentioned in his license.
• Hawk or cry his wares upon any of the streets, alleys, sidewalks or public grounds in the Township.
• When selling from a vehicle, stop or park such vehicle upon any of the streets or alleys in the township for longer than necessary in order to sell therefrom to persons residing in the immediate vicinity.
• Park any vehicle upon any of the streets or alleys in the township for the purpose of sorting, rearranging or cleaning any of his goods, wares or merchandise or of disposing of any carton or wrapping material or of any stock or wares or foodstuffs which shall have become unsalable through handling, age or otherwise.
• Peddle, solicit or distribute merchandise except between the hours of 9:00 a.m. and 6:00 p.m., unless specifically having been invited into a house by the occupant or having made an appointment with a person previously.
• Attempt to peddle, solicit or distribute merchandise or printed material without first having identifies herself/himself as a peddler, solicitor or distributor registered with the Township and having displayed her/his License or credentials in the case of solicitation of funds.
• Have exclusive right to any location in the public streets or operate in any congested area where operations might impede or inconvenience the public.
• Enter or attempt to enter the residence of any person in the Township without an express invitation from the occupant of such residence.
• Conduct herself/himself in such a manner as to become objectionable to or annoy an occupant of any residence.
• Distribute obscene merchandise or printed material or that which advocates unlawful conduct.
• Litter the street, public places or properties within the Township with any merchandise or printed material.
To report violations of the ordinance, residents are requested to call the Susquehanna Regional Police at (717) 426-1164 during normal business hours, normally 8:00 AM – 4:00 PM, Monday – Friday. After hours, violations should be reported to our 24-hour Lancaster County Communications Center at (717) 664-1180.