REMINDER: Changes to Township Refuse/Recycling Pickup Start Tuesday, January 5th
On October 20, 2020, the East Donegal Township Board of Supervisors awarded the refuse and recycling collection contract to Republic Services following a competitive bidding process. The change in contracted hauler will be effective January 1, 2021.
However, the change of hauler also means some upcoming changes for residents. Pickup day for refuse/recycling will be changing, and the cost of refuse/recycling service will be increasing.
New Service Days
Refuse/recycling will be picked up on Tuesday or Wednesday based on where you live in the Township. Those living in the Township west of Colebrook Road and Old Colebrook Road will be serviced on Tuesdays. Those living in the Township east of those roadways will be serviced on Wednesdays. (Click on map to view larger version) The residents living on Colebrook Road or Old Colebrook Road will be serviced on Wednesdays.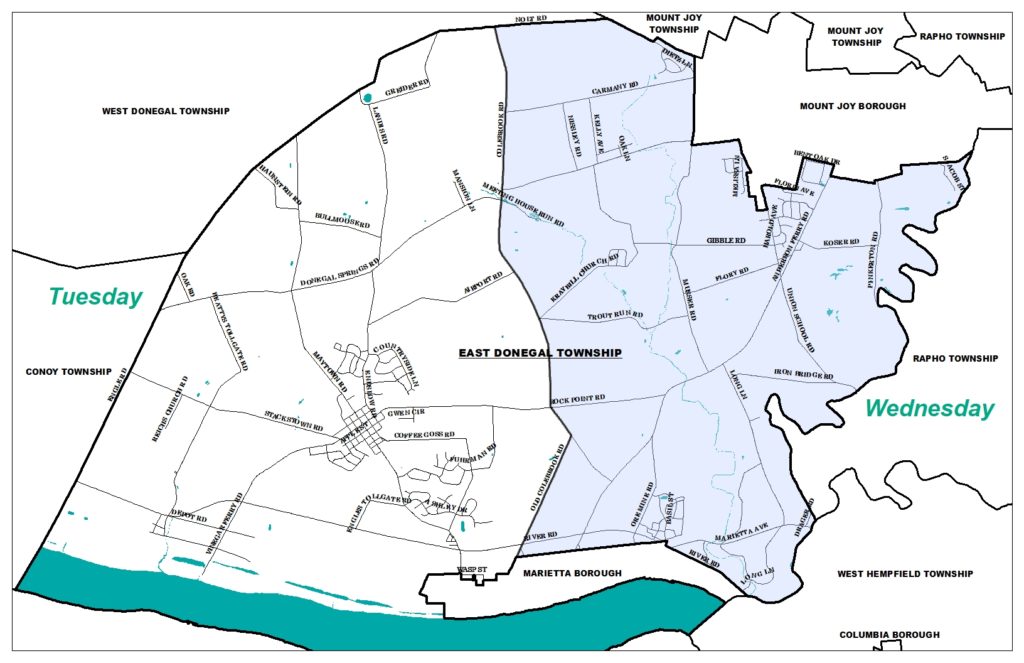 All refuse/recycling must be placed curbside the night prior to the scheduled pickup.
Cost Increase
Although the required competitive bidding process for the selection of a contractor is an effort to secure the best price for the service, the lowest bid received increased the cost for the service over 30%. This increase has resulted in the need to increase the cost to residents. Therefore, effective January 1, 2021, the cost for refuse/recycling collection service will increase to $220.00 (billed $110.00 semi-annually). The cost for tags required for extra refuse, large items and yard waste will remain the same.
It is important to note that all refuse and recycling rules, regulations and special pick-up services remain the same.
Should you have questions regarding these changes, please feel free to contact the Township Office.