License Your Dog In PA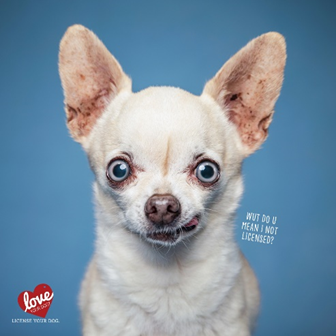 All dogs three months or older must be licensed by January 1st of each year no matter when the license was purchased the previous year. Annual dog licenses are valid from January 1st thru December 31st of the year it was issued. Violators can be cited with a maximum fine of $300 per violation plus court costs PER dog.
An annual license is $8.50 and a lifetime license is $51.50. If the animal is spayed or neutered, the annual fee is $6.50 and lifetime is $31.50. Discounts are available to older adults and people with disabilities.
The small license fee helps the millions of dogs in the state by funding the Pennsylvania Department of Agriculture Bureau of Dog Law Enforcement.
Dog licenses are available from your local county treasurer and other licensing agents.
To make your dog legal now:
please click here: PADogLicense.com
From your mobile device: Be sure to TAKE A SCREEN SHOT of the license after completion as you will not be able to use the BACK button feature or email the link to print the license.
On a desktop: Simply apply, pay and print your dog license and your dog is legal on the spot.
Your metal tag will be mailed to you. "Due to COVID-19, please allow the Treasurer's office extra time to mail your metal tag as we are operating with a limited staff at this time. Your patience is greatly appreciated! Thank You!"
If you have already renewed your dog's license, we thank you and you can disregard this notice!
Reasons for dog licensing:
It's the law. All dogs three months and older must have a current license.
If your dog gets lost, a license is the best way to get him back. A license helps animal control and shelters identify your dog and get him back home safely.
The cost of a license is less than the penalty for being caught without one. Owners who fail to license their dogs could face a fine of up to $300 for each unlicensed dog.
License fees support animal control. The annual fee you pay to license your dog helps keep shelters running and supports the work of the Bureau of Dog Law Enforcement, which is responsible for ensuring the welfare of dogs, regulating dangerous dogs and overseeing annual licensing and rabies vaccinations.